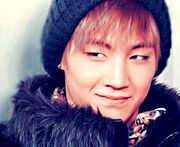 alternative names: ParkBom, OneLove, RushGG, BomBom, Ailee<3, Kimchi_King

President and former Terran God of Team FireLight.
Made his comeback in Season 7 by throwing all 5 placement matches and restarting as Protoss.
He quickly realised how boring Protoss is to play after beating over half the world with only stalkers and colossus, and has now decided he will return to the one and only race of Men - Terran.
His much anticipated comeback excited so many people, including the late Kim Jong-Il, who sadly passed away from excitement at the prospect of his return.
SOS has recently been having a lot of trouble keeping girls away from him when out in public. Seen as a superstar to the majority of the world due to his charm, amazing skills and beauty, he is truly a fan favourite within the team.
GomTV are rumoured to be honoring their next off-season tournament in respect of SOS, naming the tournament after him (tournament name TBC).
Season 7 will truly be an exciting season in the world of entertainment with the return of such a wonderful talent.