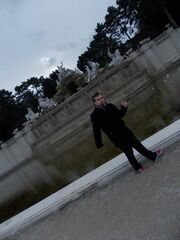 Jarod joined Team Firelight in the begining of 2012 being one of the new protoss hopes of the team.
He wanted to prove that he deserved to be in the team and participated in a lot of dailies during his trial period, finishing 2nd in a Friday recruitement torunament and won a FireLight daily on the week he became a full member.
Due to traveling issues he played less and less during the spring of 2012. He is curently smurfing as terran on the NA server where he started from Bronze and now he is a high Platinum. Also because of the lack of practice time he was demoted to Diamond league in EU server. His heart will always be on EU/toss, but because of the very little time he can actually play, he is trying other races on other regions. Next region he is planning to play is the korean one.
Goals: in the end of July Jarod will play again on the EU server and he will crush through Diamond League and get back to Master League. Also clan wars and wining tournaments will be on his "to do" list. The ultimate goal is to win every game!
Related links:
Edit
Team:
Results:
Edit
2012:
1st: FL DeathMatch#5
1st : FL Daily Week 8 #2
2nd: FL Recruitment #6!
2011:
TLOpen 6, RO64 http://www.teamliquid.net/tournaments/admin/?action=bracket&id=526#R6
SC2ROLeague, group plays http://league.sc2ro.ro/s1/groups.html
Ad blocker interference detected!
Wikia is a free-to-use site that makes money from advertising. We have a modified experience for viewers using ad blockers

Wikia is not accessible if you've made further modifications. Remove the custom ad blocker rule(s) and the page will load as expected.